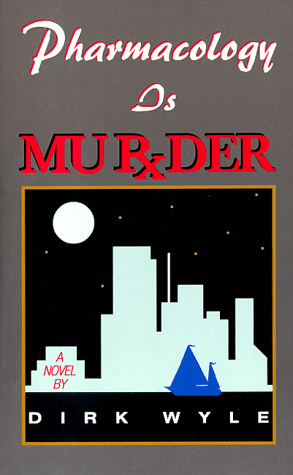 ---
FROM BACK COVER
Ben Candidi, a 28-year-old professionally dead-ended techie, is offered "the King's Shilling." Ben is asked to do a little unauthorized undercover sleuthing for his ex-boss, Dr. Geoffrey Westley, the Chief Dade County (Miami, FL) Medical Examiner. Aristocratic, legendary, aging Dr. Westley thinks that one of the pharmacology professors at nearby Bryan Medical School murdered his chairman, using a cleverly selected poison that left no trace.
It seems an easy enough assignment for Ben: just enter the Ph.D. program at Bryan Medical School, innocently gather information on 12 pharmacology professors, figure which prof did it with which poison, and secretly pass the information on to Dr. Westley, who will take it from there. Ben can then go back to working on his Ph.D.
But it's never that easy, even for a Mensa genius. Science projects always take longer than expected. Scientific information isn't harmless, even if it's gathered innocently. Will the information lead back to Ben after an arrest is made and the defense starts getting organized? Does the "information" add up to a forensic proof? Or is it just an elaborate theory concocted by a deluded duo — a young man who hasn't learned enough and an "old boy" who has forgotten too much.
"First-time novelist Dirk Wyle skillfully pairs the tone of the hard-boiled mystery with the intricate scientific detail common to the medical thriller. The result is an excellent whodunit ... a first-class mystery that combines elements of Michael Crichton, Patricia Cornwell, and even Edna Buchanan."
— Booklist Mystery Showcase
American Library Association
"... one fine debut mystery, combining scientific method with a quirky, humanistic scientist/detective and resulting in the perfect compound ... inventive, intriguing, and most importantly, evocatively drawn. If you like a puzzle, you'll love this one."
— Les Standiford, author
Presidential Deal
---
LIBRARY OF CONGRESS CATALOGING-IN-PUBLICATION DATA (Print edition)


Wyle, Dirk, 1945-
Pharmacology is murder / Dirk Wyle
ISBN 1-56825-038-X
I. Title.
PS3573.Y4854P48


Pharmacology is Murder © 1998 by Dirk Wyle

Publisher
Rainbow Books, Inc.
P.O. Box 430
Highland City, FL 33846-0430



This is a work of fiction. Any similarity of characters to individuals, living or dead, is purely coincidental.



---
COPYRIGHT NOTICE
All rights reserved. No part of this book may be reproduced or transmitted in any form or by any means, mechanical or electronic, including producing or transmitting copies of this diskette or posting the contents of this diskette on the Internet. Copying this diskette is strictly prohibited.
---
The font size is preset to give 11-13 words per line. If your browser is delivering font which is substantially larger or smaller, please go into "view" and adjust font size accordingly.
Normal HTML display leaves one line between paragraphs.
After reading a screen, please push the "page down" button on your keyboard to bring down the next screen. This is preferable to using the mouse or slide-bar to scroll the text, which is difficult and distracting. Upon reaching the end of the last screen, click on "Go to Next Chapter".
---
DEDICATION
I wish to thank Carlisle, Yvonne, Karl, Ellen, Larry, Elena, Gisela, Mary, Daniel, Henry, Winona, Ed, Mary-May, Charles, Ira, Paddy, Sandra, Cynthia, Nancye, Lenore and Douglas (Miami bicyclist, historian and photographer) for their candid reactions to my work while in progress.
This novel is dedicated to all who have known a true love of science — the solitary pursuit of Nature's secrets in the laboratory at three o'clock in the morning.
---
CHAPTER LISTING

(Before each new reading session, refer to this page for your "bookmark.")



Prologue
Chapter 1: &nbsp On the Carpet
Chapter 2: &nbsp Proposition
Chapter 3: &nbsp The Road Not Taken
Chapter 4: &nbsp Application
Chapter 5: &nbsp Acceptance
Chapter 6: &nbsp Interviews
Chapter 7: &nbsp First Class
Chapter 8: &nbsp Second Class
Chapter 9: &nbsp Psyching Out the Profs
Chapter 10: Basic Training
Chapter 11: Departmental Seminar
Chapter 12: Inside Scoop
Chapter 13: Zeroing In
Chapter 14: Neurotoxins Galore
Chapter 15: More Intelligence
Chapter 16: Stroke of Genius
Chapter 17: Rebecca
Chapter 18: Selecting Selectins
Chapter 19: Animal Tracking
Chapter 20: Tragedy of Science
Chapter 21: Elliott Key
Chapter 22: Phase Two
Chapter 23: Winter Break
Chapter 24: Cool Yule
Chapter 25: New Year's Revelations
Chapter 26: Evaluation
Chapter 27: Possible Eureka
Chapter 28: Solo at Exeter
Chapter 29: Command Performance
Chapter 30: Return Engagement
Chapter 31: Reverberation
Chapter 32: Encore
Chapter 33: Fallout
Chapter 34: Escape
Chapter 35: Exile
Chapter 36: Return
Chapter 37: Under the Video Microscope
Chapter 38: Administrative Hearing
Chapter 39: Final Chapter
Postlogue
About the Author



---
Go to Prologue and Chapter 1
Or go to Dirk Wyle's Website for more information on this and other books in the Series
---
(This Indicator Bar at the bottom of each chapter will show your progress through the book.)
---
=
=
=
=
=
=
=
=
=
=
=
=
=
=
=
=
=
=
=
=
=
=
=
=
=
=
=
=
=
=
=
=
=
=
=
=
=
=
=
=